An artful balance of fashion and function
Dottie & Grace – modern diaper bag backpack hold all your baby's gear.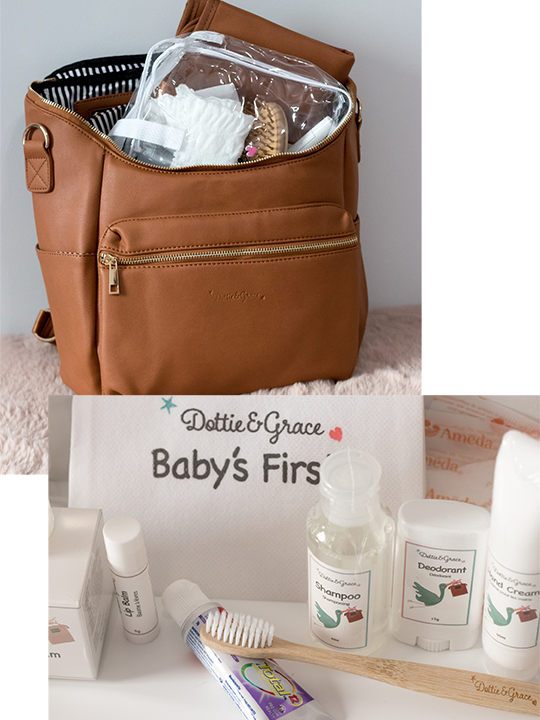 Our Diaper Backpack has a streamlined design, great construction and all the functionality parents need in a diaper bag. Perfect for both Mom and Dad, this backpack has all the must-have features of a classic diaper bag including 2 big compartments and 12 pockets for the ultimate organization, easy-grab handles.

Toothbrush, toothpaste, mouthwash, shampoo, shower gel, soap, deodorant, lip balm, hand sanitizer, hair ties, facial cleansing wipes, shower sponge, breast pads, sanitary pads & disposable panties
Our Baby Bags are trendy diaper bags (backpack style) that come in a variety of colours.
Each Ultimate Bag contains all the toiletries needed for the new mum (including shampoo, toothbrush, toothpaste, mouthwash, shower gel, hand sanitizer, lip balm and hair ties).
The Ultimate bags also include breast pads, sanitary pads.
And our favourite product- the practical and very comfy disposable panties for those first couple of days.
We also have our diaper bag available on it's own.
Our bags come in a variety of colours
I got the bag set in the tan leather style just before I had my first baby. It was so useful. I used the big bag to bring mine and baby's clothes & his nappies to the hospital for his birth. I used the backpack to bring the things I knew I'd need to have to hand quickly: my phone, charger, snacks and drinks for me, breastfeeding accessories etc. The included kit was just brilliant - everything you'd need for a hospital stay after having a baby, including deodorant, a toothbrush and nipple cream (amongst lots of other useful stuff). My baby is now 7 months old and I use the big bag for all my overnight stays and the backpack pretty much daily as a nappy bag. It has loads of compartments to organise the necessary bits, a matching changing mat, insulated bottle bag and a little detachable zip pouch. It's particularly useful if you have baby in a front sling or baby carrier as your hands and arms are free. The tan leather look isn't classic "baby bag" style which means you can use the bags for outings even without the baby. A really classy set.
Highly recommend Dottie and Grace bags!They are an incredible baby shower gift for expecting mothers. I was so very thankful for mine.They take away all the stress of trying to get your own bag together. The bags are very well thought out and have everything you will need for the hospital.
This changing bag is greate, really high quality materials and practical design with lots of useful pockets. I loved the postpartum hospital kit too, the nipple creamis the best I've ever tried! Would make a beautiful gift for a mum to be.
I just got my Dottie and grace diaper and tote bag! These are so perfect. I love the size of the tote bag, it's perfect for a weekend away and has a ton of room. The diaper bag with all of its pockets! It's so practical. You wont regret purchasing these! Such great quality & styles. I love them!